What's causing my eavestrough to leak?
A leak in your eavestrough can be damaging to both the exterior and the interior of your home.

Your eavestrough is designed to drain the water from your roof and take it through a downspouts away from your buildings walls and foundation. Whether it's from debris clogging your eavestrough or poorly sealed corners, a leak in your eavestrough can create even more expensive damages to your home. Correcting the disrupted water drainage system through a cleaning, repair or replacement is the only way to stop water damage from happening to your home. Can Mar Aluminum offers gutter and eavestrough repair, replacement and partial or full installation services. With 25+ years of experience call as today for your FREE estimate at: (905) 616-3330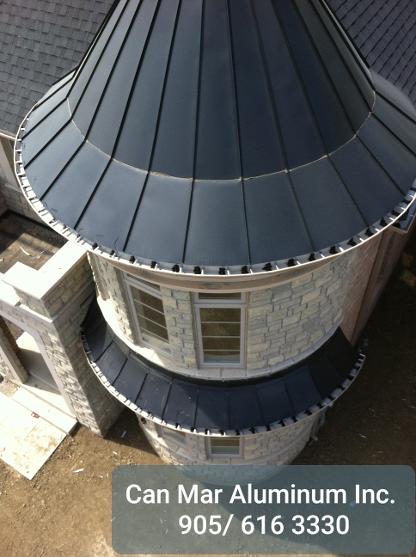 Can-Mar Aluminum has been your local aluminum specialist for more than 25 years. We've developed the know-how to help you transform the look of your home using the highest quality aluminum gutter, soffit, fascia and trim products available. With more than 60 colors to choose from, our seamless aluminum gutters are custom made right at your home.
Offering free quotes and professional advice!
Call us at: (905) 616 3330
Some of our suppliers and manufacturers:

Servicing Area: Mississauga, Etobicoke, Brampton, Oakville, Milton, Burlington, Haltton Hills, Georgetown, Acton, Rockwood, Terra Cotta, Campbellwille, Caledon, Bolton, Maple, Vaughan, Woodbridge, Rexdale, Malton. Here are some of the keywords to find us on search engines: Mississauga eavestrough, Eavestrough replacement in Oakville, Eavestrough replacement in Burlington, Eavestrough installation in Mississauga, Gutters in Vaughan, Eavestrough in Milton, Eavestrough repair in Brampton, Eavestrough repair in Georgetown, Gutters in Oakville, Mississauga eavestroughing, Oakville eavestroughing, Gutters in Mississauga, Rain gutters installation, Gutters repair in Brampton, Eavestrough service in Mississauga, Eavestrough service in Oakville, Eavestrough services in Halton, Rain gutters Mississauga, Local eavestrough installation, roof gutters installation, Eavestrough installation, Eavestrough contractors in Oakville, Gutter contractors in Oakville, Eavestrough contractors in Mississauga, Gutter contractor in Mississauga, Gutters delivery, Eavestrough delivery services in Mississauga, Oakville and Brampton region. Oakville eavestrough companies, Gutters in Brampton, Gutters installation in Brampton, Free gutter quote Mississauga, Free eavestrough quote in Oakville, Gutter screen, Rain water channel, Gutter estimate Mississauga, New gutter system installation, eavestrough cover installation in Mississauga, Burlington gutter services, Eavestrough services in Halton Hills Area, Local eavestrough prices, How much it cost to install gutter guard, Eavestroughing. Low prices eavestrough
Copyright © 2023canmar.ca