Common causes of gutter damage:
Storm and high wind damage, heavy snow and ice, water overflow, clogged gutters, gutter not properly sloped, sagging gutters, leaks and holes, poor and improper installation, downspout fell off the house....
If you are looking to repair existing gutters or to install new gutters, call the Can Mar Aluminum team today.
We're Experienced and Affordable gutter contractors serving the Peel and Halton region for the last 25 years.
Give us call at (905) 616-3330 and we'll be more than happy to make a solution and let you know what we'll do to get your gutters working properly.
We also provide emergency services for last minute repairs.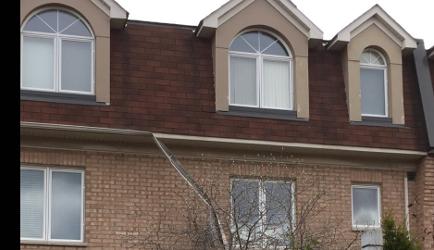 Offering free quotes and professional advice!
Call us at: (905) 616 3330
Some of our suppliers and manufacturers:

Servicing Area: Mississauga, Etobicoke, Brampton, Oakville, Milton, Burlington, Halton Hills, Georgetown, Acton, Rockwood, Terra Cotta, Campbellwille, Caledon, Bolton, Maple, Vaughan, Woodbridge, Rexdale, Malton. Here are some of the keywords to find us on search engines: Emergency gutter repair Oakville Ontario, Georgetown gutter repair, Emergency eavestrough repair Milton, Downspout repair Missisauga, Hanging gutter repair Halton Hill, Emergency aluminum repair Mississauga, My gutters are demaged by storm, wind damage downspout, gutter damaged by ice, my gutter overflow, my gutters overflow, my eavestrough sagging, my gutter leaks, downspout fell off the house, Emergency eavestrough repair Oakville, Emergency eavestrough repair Mississauga, My eavestrough dripping?, Whay do I have ice on my gutters, Downspout repair services, Damaged eavestrough by moving truck, Fixing sagging gutter, My downspout is clogged?

Copyright © 2023canmar.ca